I've gone from working around 30 hours a week to upwards of 43 hours a week in the past two months, and you can tell by the state of my house.  Having afternoons when I could be around the house with the kids was nice, and things definitely were running more smoothly.  So I've felt like things were spinning a little out of control lately.  And how do I regain control?  By browsing Pinterest, looking at chore charts.
I looked at a couple of varieties and decided to make my own.  First, I asked Charles for a plank of wood from his scrap pile.  It had already been finished, and was a little weathered, but I liked how it looked and it kind of matched our woodwork.  There was a cute chart on Pinterest with this Maya Angelou quote, and I liked that too.  But Charles didn't feel like the sharpie was visible enough:
So I traced over it with a silver paint marker, leaving a little sharpie showing behind it so that it looked like a drop shadow.
Next, cup hooks for the 'to do' and 'done' tags under each name:
I found these tags at an office supply store.  I think they are for rummage sales or estate sales, and I just printed out chores and glued them on.  I'm using the bottom hooks for chores that we don't need to do this week.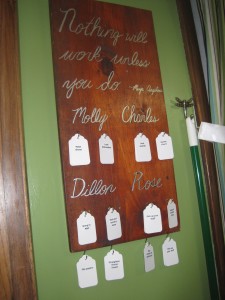 We are working on a game now, and maybe there will be some prize for the person with the most completed tags at the end of the week, and you can steal them from each other when you complete your own or something.  I'll let you know how that shakes out.  And whether I finish the week feeling more in control of my life.
Tags: chore chart, crafts, easy, projects