This year we are going to do a group costume with another family.  We'll have 11 people total, and wanted to do a kids' movie theme, so we are going with Toy Story.
Dillon and Rose decided to be Woody and Jessie, so I started out buy getting some cow-patterned fabric, and making Woody's vest.  I didn't bother getting a pattern because vests are pretty easy to throw together.  As I often do, I drew out my shapes on a paper grocery bag and used that to cut the fabric.
I also cut a simple white lining for the vest.  It isn't necessary but it gives the vest a nice weight.  So I sewed the lining to the vest (right sides together) and clipped the curves.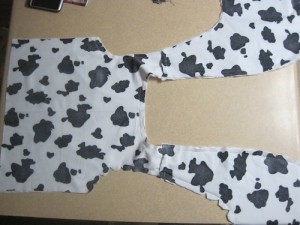 You have to leave the sides of the back open in order to turn it right side out, which is a little funny but it works.  You bring the front panels back through to get everything the right way again.  (Here is the right side, below.)

Then you just sew the sides together and you are good to go!  I need to find a sheriff's badge, but it is a decent start!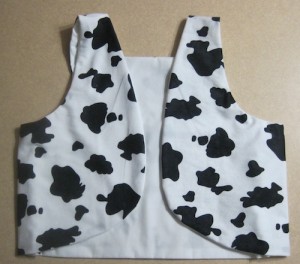 Tags: halloween, halloween costume, toy story, woody the cowboy